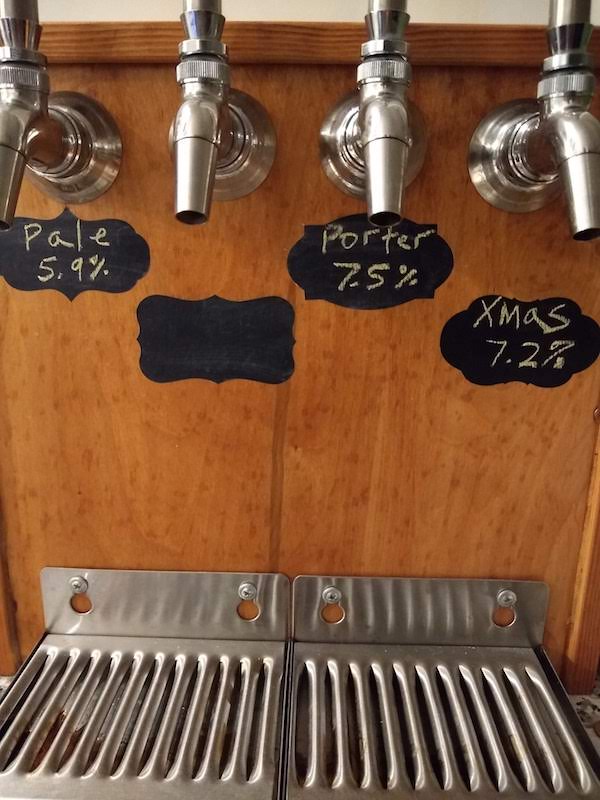 Sticking with my promise to update the blog when I rotate what's on tap, here comes November's entry.
The last round of beer lasted pretty long. That's due to only having one bbq party, and me drinking less beer these last few months.
First up is another pale ale. Basically same recipe as last time except no clarifying agents (usually I throw a whirlfloc tab in), and I threw the dry hops in while the yeast was at high krausen. As expected it came out very hazy (NE IPA style), and has really good hop aroma. I love this one!
The porter is a toasty malty wonderful beer to have on tap for the winter season. It could handle aging a while, but it's pretty good fresh out of the fermenter.
Finally I've got the holiday ale, your classic winter warmer. Not much to say about this one other than I expect it to be a big help getting me through the rainy winter months ahead.
Here's the recipe:
9

 

lbs

 

8.0

 

oz

          

Pale

 

Malt

 

(

2

 

Row

)

 

US

 

(

2.0

 

SRM

)

           

Grain

         

1

        

76.0

 

%

        




1

 

lbs

 

8.0

 

oz

          

Caramel

/

Crystal

 

Malt

 

-

120

L

 

(

120.0

 

SRM

)

   

Grain

         

2

        

12.0

 

%

        




1

 

lbs

                 

Caramel

/

Crystal

 

Malt

 

-

 

80

L

 

(

80.0

 

SRM

)

    

Grain

         

3

        

8.0

 

%

         




4.0

 

oz

                

Cara

-

Pils

/

Dextrine

 

(

2.0

 

SRM

)

             

Grain

         

4

        

2.0

 

%

         




4.0

 

oz

                

Roasted

 

Barley

 

(

300.0

 

SRM

)

               

Grain

         

5

        

2.0

 

%

         




1.00

 

oz

               

Galena

 

[

12.50

 

%]

 

-

 

First

 

Wort

 

60.0

 

min

   

Hop

           

6

        

46.2

 

IBUs

     




0.50

 

oz

               

Cascade

 

[

5.50

 

%]

 

-

 

First

 

Wort

 

60.0

 

min

   

Hop

           

7

        

10.2

 

IBUs

     




0.50

 

oz

               

Willamette

 

[

5.50

 

%]

 

-

 

First

 

Wort

 

60.0

 

mi

 

Hop

           

8

        

10.2

 

IBUs

     




1.00

 

oz

               

Tettnang

 

[

4.50

 

%]

 

-

 

Boil

 

30.0

 

min

        

Hop

           

9

        

11.6

 

IBUs

     




0.50

 

oz

               

Go

ldings

,

 

East

 

Kent

 

[

5.00

 

%]

 

-

 

Boil

 

0.0

  

Hop

           

10

       

0.0

 

IBUs

      




1.50

 

oz

               

Go

ldings

,

 

East

 

Kent

 

[

5.00

 

%]

 

-

 

Dry

 

Hop

 

3

 

Hop

           

12

       

0.0

 

IBUs

      




1.00

 

oz

               

Cascade

 

[

5.50

 

%]

 

-

 

Dry

 

Hop

 

3.0

 

Days

      

Hop

           

13

       

0.0

 

IBUs

 



---